Meet the Team
Welcome to the different personalities that make up The Mayfair Townhouse. We are individual, just like the home in which we are based. And we bring a unique sense of style and our own personal charm to masterfully create the team at the Townhouse.
We Are Individual
The Team Behind The Townhouse
This dandy group of ladies and gentlemen are what makes our hotel so unique... from our Head Concierge, Dianna your personal encyclopedia to our seasoned traveller and General Manager, Federico. With this unique set of characters at the helm, it's no wonder that The Mayfair Townhouse is the talk of London town.
Federico Ciampi
General Manager
Born in Italy, Federico is a seasoned traveller having lived in Dubai, Scotland and the British Virgin Islands. He now calls London home, with us. His favourite spot in Mayfair? Shepherd Market – where you'll find boutique shops and restaurants. A member of the Institute of Hospitality, in his spare time you'll find him mentoring students.
Dianna Beran
Head Concierge
Your key to unlocking London, there is no corner of the city Dianna doesn't know. Bilingual in English and French, she has worked in some of the world's top hotels from China to Switzerland. Fun fact: she makes up the 3% of ladies in the UK & Commonwealth to receive the acclaimed label of Les Clefs d'Or.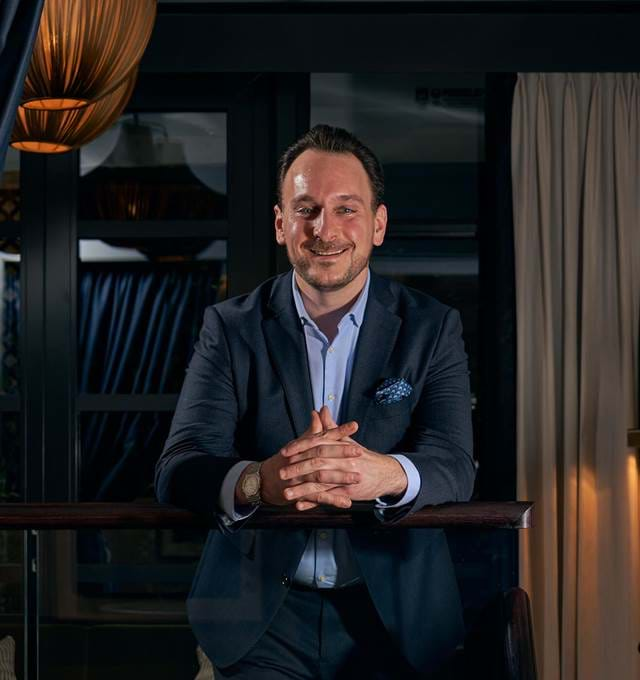 Hubert Losguardi
Director of Sales & Marketing
Half French, half Lebanese, Hubert brings a world of cultures to the Townhouse having lived everywhere from Africa to the Middle East. Inspired by his father's love of good food and people, age 14 is when his hospitality career, to become a trained chef turned Sales & Marketing extraordinaire. Favourite drink? Negroni. "Don't forget the Plymouth Gin" he says.
Piero Monaco
Bar Manager
With a wealth of experience in the world of Food and Beverage Piero has seen it all, from a speak-easy in the heart of Covent Garden to a world-renown member's club born in Soho. He enjoys the fast-paced and demands that come with bartending in such a prestigious postcode. Favourite townhouse tipple? The 'Mr Bosie' of course: "the taste is different from the first to the last sip much like the townhouse's personality itself, it's outrageous and unexpected".